This information is posted for parents to be aware of the indoctrination taking place in public schools.
---
Teach For America Partners with GLSEN Gay, Lesbian, Straight Education Network
Curriculum that includes positive representations of LGBT people and history can affirm LGBT students, improve school climate and align with Common Core standards.
The GLSEN toolkit outlines its application within the Common Core States Standards for English Language Arts and the Mid-continent Research for Education and Learning (McREL) Standards (4th Edition).
GLSEN has successfully lobbied Congress for legislation that mandates the teaching of the LGBT agenda to our children starting in Kindergarten.
Related legislation to H.R. 5 and S 1177:  ESSA – "Every Student Succeeds Act"
---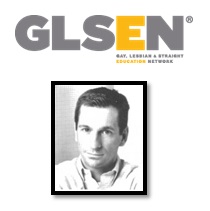 Kevin Jennings founded the Gay, Lesbian, and Straight Education Network (GLSEN) in 1990.  Originally it was named the Gay and Lesbian Independent School Teachers Education Network.  Jennings was the Assistant Deputy Secretary for the Office of Safe and Drug-Free Schools at the U.S. Department of Education from 2009-2011. In May of 2011, Jennings resigned from his Obama administration position and became President and Chief Executive Officer of Be The Change and in September of 2012 he became the Executive Director of the Arcus Foundation that is a LGBT-specific grant making organization.
Kevin Jennings, was the keynote speaker at the 2000 10th Annual GLSEN/Boston Conference.
Kids and teachers were bussed in from schools all across the state of Massachusetts.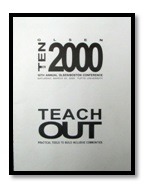 The program for that conference can be found at this link:
http://www.massresistance.org/docs/issues/fistgate/docs/GLSEN_Conf.pdf
Conference workshops include "Diesel Dykes and Lipstick Lesbians:  Defining and Exploring Butch/Femme Identity" and "Ask the Transsexuals" in which "Three brave and enticing transsexuals tell their stories and answer your questions about transgender issues."
On page 3, you will see that Adam Glick is the GLSEN/Boston Conference Coordinator.
That was 2000.  What is Mr. Glick doing presently?  Here is a link to his Greater Boston
PFLAG Marathon Runraiser 2015.
https://www.crowdrise.com/gbpflagboston2015/fundraiser/adamglick1
Adam Glick writes that, "My extended family has actively reached out and made a place for our GLBT relatives on our family tree (literally, on the family tree with domestic partners being added and name changes for transgender individuals being added as well).  I am proud of my family for embracing my niece who came out as transgender at age 5…"
This 2000 10th Annual GLSEN/Boston Conference was an important one.  Mass Resistance has provided invaluable resource material on their website.  I will quote from this link:
We have posted the actual audio recordings of
what went on at that March 2000 event. Children
as young as 12 were instructed by adults
(state employees!) how to perform a range of
dangerous and perverted homosexual sex acts.
These included: homosexual oral sex techniques,
inserting one's entire hand in someone else's rectum,
sado-masochism techniques, girls using "dildos" and
rubbing their sex organs together, and more.
Please go to this link and listen to these recordings.  The transcripts are also provided:  http://www.massresistance.org/docs/issues/fistgate/index.html
There are several other links about this conference included in the link above .  They include
the following:
Synopsis of the recordings
Workshops where students as young as 12 were
given instruction in homosexual sex acts.
LISTEN to RECORDING: Part I
[with transcript]
LISTEN to RECORDING: Part II
[with transcript]
At the conference:
Workshops at the conference
Unbelievable.
READ the conference program
Letter from Mass. Commissioner. of
Education. Jennings as keynote
speaker. PHOTOS, And more.
Graphic sex handouts given to kids
Explicit homosexual pamphlets, instructions,
sex paraphernalia.
Teacher traumatized at conference
What one teacher witnessed that day, including
Kevin Jennings' keynote speech! Must reading.
"Religious wrong" workshop
Anti-religion workshop for kids demonized folks
with traditional values.
After the conference:
Affidavit given to district attorney
Graphic description of Fistgate – hand
delivered by Scott Whiteman to DA Martha
Coakley. Was ignored!
Elementary school newsletter brags that staff
attended conference
In Newton, MA, announcing that staff members
and others had participated in conference!
Weekly Standard article on Fistgate
Published in July, 2000. Warning about the
"gay agenda in Massachusetts schools."